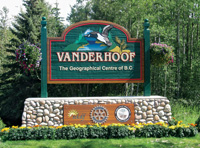 If you own a business on Columbia Street in Vanderhoof, an opportunity has arisen that you won't want to miss out on.
The 2018 Business Facade Improvement Program (BFI) is back for another year to help out renovation needs in the Vanderhoof district.
Requirements of the funding say that your business must be located on Columbia Street and plan on upgrades more than $2000. The BFI Program will fund up to $5000 for renovations to local businesses.
Eligible upgrades include such things as new exterior lighting, exterior architectural features, windows, new siding, painting, entrances, signage, and accessibility improvements.
Uneligible upgrades would include such things as routine maintenance, structural repairs, landscaping, paving, indoor renovations, etc.
"I believe the impact of this program for us as a business and for our community has been a very positive one." says a BFI 2016 participant.
Deadline for applicants is May 31st, 2018.
For full details on the BFI initiative, you can click here.