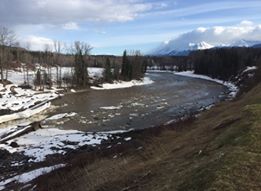 Most of us here in the Bulkley Valley are done with the snow, however, mother nature has other intentions.
We reported last week that spring was on the horizon but fluctuating weather systems have caused quite the confusion.
"Everyone is waiting for spring to roll around no doubt about it. The Bulkley Valley is going to have to wait a bit longer as there is some precipitation mixed with a cooler air system, offering a chance for flurries or snow in the next couple days" says Environment Canada Meteorologist Lisa West.
West says although this winter seems like it may never end, there is a glimmer of hope.
"Working its way up from the South-West is a bridge of high pressure that should keep the Bulkley Valley region dry towards the end of the weekend into early next week. Expect cloud coverage for most of next week but with that cloud, we could see highs of around 12-15 degrees which is about normal for this time of year."