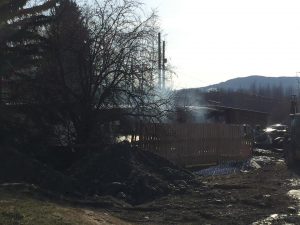 Telkwa Fire Chief Laurence Turney has confirmed there were no injuries following the trailer fire yesterday on Coalmine Road in Telkwa.
He says residents of the trailer were not home at the time and that no fire officials or RCMP were injured during the blaze either.
Crews were able to contain the fire to one home.
While it is still early, Turney believes the fire started somewhere near the interior of the home. The cause has yet to be determined.
Turney was quick to say he was thankful nobody was hurt in the fire and sends his gratitude to not only the Telkwa Fire Rescue volunteers but Smithers Fire Rescue and Smithers RCMP for their timely response and efforts.