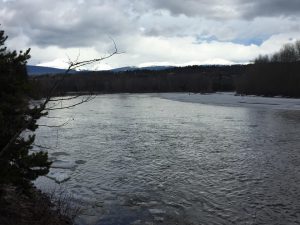 Unfortunately, as the weather warms up, we must be aware of not only fire season, but flood season as well.
We here in the Bulkley Valley are no stranger to being prepared, however, concern has been raised as of late regarding potential floods.
The sunshine continues to melt what seemed like an eternities worth of snow and the rivers and lakes continue flowing faster.
Dave Campbell Head of the BC River Forecast Centre says his concerns right now are not the Bulkley or Telkwa River.
"We're on the fringe of issuing a high stream flow advisory and I wouldn't be surprised if areas such as Houston are seeing increased activity there. My main concern lies in individual survey points in lower elevations that had higher snow pacts which could mean for quicker flooding in say the Houston region."
Campbell says it will still be another week or two until they can really gauge whether or not the major river systems will be impacted severely. He says no matter what region you live in, you should always be aware of the snow melting and increased potential for floods.
So what can you do to prepare for flood season?
Pay attention to local media for updates and advisories
Prepare an emergency kit for each family member with supplies for one week
Always proceed with caution when on or around water systems
Be aware of erosion areas and unstable banks
Move property that can be damaged to higher ground
More information can be found here.