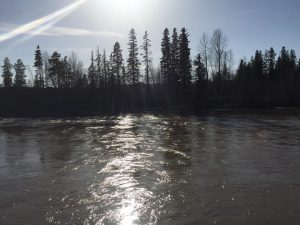 The BC River Forecast Centre has issued a High Streamflow Advisory for the Bulkley River and Buck Creek.
The warning didn't come as a surprise to many with the way things heated up last week.
Officials say between Wednesday and Friday, snow was melting up to 20 millimeters a day.
The problem now is that things were a bit mild over the weekend leaving some snow to melt. Look for that to play a factor later this week.
For now, extra caution is to be taken around Houston and Smithers. No matter where you are in the Bulkley Valley, be extra cognizant when around any water systems and take proper precautionary measures.
What can you do to be prepared?
Pay attention to local media for updates and advisories
Always proceed with caution when on or around water systems
Be aware of erosion areas and unstable banks
With the unpredictability of High Streamflows, there is always a potential risk of flooding. If you require sandbags, you can contact the Regional District of Bulkley-Nechako at 250-692-3195 or 1-800-320-3339.
Additional information on flooding preparedness can be found here.