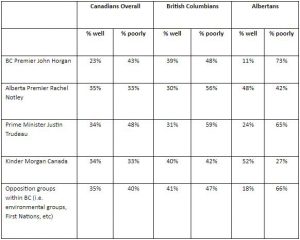 A recent Ipsos poll shows 57% of British Columbians in the north or interior region of the province are in favour of the Kinder Morgan Trans Mountain pipeline expansion.
Respondents voted 37% for strongly support, while 20% voted to somewhat support. Of those in the region opposed, 13% are strongly against it; 24% are somewhat not in favour. Just six percent do not know.
When compared to the provincial numbers, 55% support the pipeline expansion, 30% strongly and 26% somewhat.
The Trans Mountain pipeline expansion project has been a touchy subject for the BC and Alberta governments, as well as the federal government. Kinder Morgan had threatened to halt the project entirely following push back by BC Premier John Horgan.
Canadians remain steady on the issue, with 56% in this poll saying they support the expansion, 24% strongly and 32% somewhat; and oppose it 24% with just one percent saying they are strongly against the expansion.
The full survey can be found here.