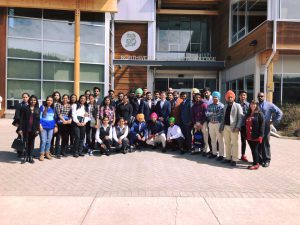 Over 30 students from India have come to Smithers to take part in the new 2-year business administration program at the Northwest Community College (NWCC).
Associate Dean Regina Saimoto outlines the objective of the initiative.
"The students from India have come here in hopes of gaining a diploma in the business admin program. By accepting these students, it has allowed us to offer a face-to-face class at our Smithers Campus. It has created enough volume to fill an entire classroom, which will, in turn, benefit locals wanting to take the class as well."
If you Google how long it would take to travel from India to Smithers, it is estimated to take over 1 day, so why Smithers?
"Beautiful scenery, smaller classroom sizes, and competitive tuition rates that are quite favorable in comparison to other institutions not only here in Canada but the U.S as well. We've been working really hard on identifying markets that would be interested in educating themselves in the Northwest region of BC and India fits that mold."
This will be the first wave of international students accepted into this program. Saimoto says the next group of students will begin their studies next May, making this a yearly class offered by the NWCC.
"We're excited to have the opportunity to have this class year round. In the short term, a lot of our students will come from India, however, we will continue to do our due diligence to try and expand. We've been working very hard to diversify our national recruitment and currently, we're targeting multiple countries and continents in an attempt to bring over a wide variety of students."
Saimoto says she wants to thank the community of Smithers for being very gracious and welcoming to the students as they integrate into our town.