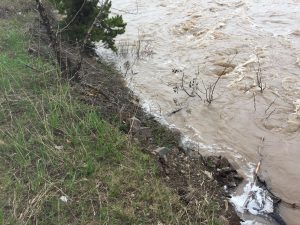 The Town of Smithers has released a statement saying water levels of the Bulkley River have exceeded parts of the bank and other areas are imminent. Flooding of these adjacent areas may occur.
The Town of Smithers has also closed the Bulkley Valley Fair Grounds due to flooding there.
It is asked that members of the public stay away from the Bulkley River and exercise extreme caution around any other bodies of water.
Undercutting of banks during potential flooding makes the area within 15 feet of the water extremely dangerous.
Smithers residents should:
refrain from recreating on or near the Bulkley River and other bodies of water,
stay off riverbanks and exercise extreme caution as fast-moving water can be extremely dangerous,
and refrain from traveling through areas that may be impacted by flooding.
Residents who live in an area that may be subject to flooding are strongly urged to take
the following steps:
prepare an emergency kit for each family member with enough supplies for up to
one week,
gather important papers in water-tight containers and keep a record of valuables
in a safe place,
relocate hazardous materials, such as cleaners and pesticides, to higher ground
to prevent water contamination,
move items that can be damaged by flood waters to higher ground,
unplug and disconnect any electrical items that may be at-risk,
and make arrangements for pets and livestock to be moved to a safe location.
Citizens may contact Town of Smithers at 250-847-1600 if they have any questions or concerns.
Residents living in the Regional District are advised to contact the Regional District of Bulkley Nechako at 1-800-320-3339 or click here for updates.
Additional flood preparedness tips can be found here.