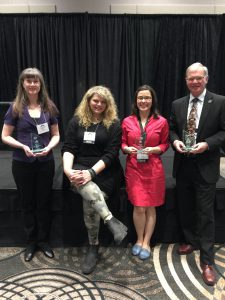 The British Columbia Library Trustees Association (BCLTA) has recognized the Smithers Public Library with the 2018 Super Trustees Award.
The Super Trustees award recognizes trustees who have made major contributions to their libraries.
Smithers Public Library Director Wendy Wright gives us her take on the award.
"Our board members here in Smithers are community members that are appointed by the Town of Smithers to provide the library with a sense of direction. They do a lot of hard work throughout the year to ensure the library has a high standard of excellence within the community. It's really wonderful that our volunteers time and effort has been recognized."
The Smithers Public Library Board members are:
Wally Bergen, Chair
Kay Mackenzie, Vice-Chair
John Buikema, Treasurer
Lorraine Doiron, Trustee and Chair of Friends of the Smithers Library (charitable society of volunteer fundraisers)
Bruce Hutchinson, Trustee
Lisa Feinberg, Trustee
Paul Parry, Trustee
Frank Wray, Town Council Liaison
These members are responsible for many things including:
Developing policies
Setting strategic direction for the library
Deciding priorities in which the library will handle
Researching how time, money, and resources should be spent by the library
Wright says without the tireless efforts of board members, none of the libraries success would be possible.
"Over the past two years they have developed an employment equity policy; created a Summer Reading Club position for Indigenous students and supported it through fundraising; and approved the use of resources towards partnerships, events, and collections that facilitate cross-cultural education. One trustee donated local Indigenous art to ensure all library patrons feel recognized and welcomed. By working together through collective debate and decision-making, the Board has given the library the tools to lead change within their institution and community."
With the Smithers Public Library winning the 2018 Super Trustees Award, Wright hopes this will set an example across the province that smaller communities can make an impact as well.
"I was able to accept the award in front of nearly 300 people and it was a great moment for our community. I hope that by winning this award, it will inspire a lot more boards and trustees across the province to support their libraries with these sorts of strategic decisions."