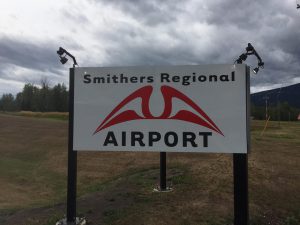 The $9 million dollar airport expansion was something the Town of Smithers desperately needed.
It seems as though the plan is finally coming to fruition, as it was recently announced that Phase 1 of the expansion was complete.
Phase 1 would include such things as a new, modernized boarding lounge, as well as upgrades to the heating and ventilation system.
With how things are going to this point, here's Project Coordinator John Steward.
"We were recently able to begin processing clients through the new boarding lounge. We have the new security system set up in there and seating for up to 60 people. That number of seats will go up to 118, we simply haven't installed them all yet. It's a bit of a soft opening but I'm happy to say everything is functional."
Although we here at My Bulkley Lakes would've loved to include some snapshots of the inside, we were asked by Mr. Steward to hang off on photography until the grand opening, which will be announced in the near future.
Inside the lounge is an amazing open concept design which has windows showing off both the Hudson Bay and Babine mountain ranges.
"I'd say one of the biggest things people will notice is the open timber and beam concept. When you add that in with the windows, it makes for a summer-time feel, all the time. Another thing we're excited about is the new heating and ventilation system. It's a geothermal system which fits into the Town of Smithers plan for a more green and sustainable infrastructure future. We've found very little issues with the new system, the biggest one is finding the right operating temperature during this current heatwave. It's a cool concept. You walk in and they look like speakers but they actually are vents pumping out cold air."
Phase 2 will see the completion of not only the exterior of the building but the baggage claim as well.
Steward says the expansion project has had very little issues to deal with and is on schedule to be fully completed by the first-quarter of 2019.