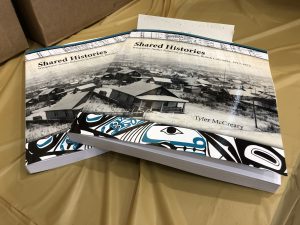 On Saturday, the launch of Tyler McCreary's new book Shared Histories was a celebration of the village of Witset and town of Smithers coming together as one community.
To celebrate the book, leaders and community members from both Smithers and Witset walked from the Bulkley Valley Museum at 6 am to Witset to share a traditional feast.
The book covers the shared history of the Wet'suwet'en-settler relations in Smithers from 1913-1973 and the destruction of the Wet'suwet'en village Indiantown.
Shared Histories started as a research project over 3 years ago when the Wet'suwet'en hereditary chiefs met with the city official in Smithers to improve the relationship between the two communities.
Mayor Taylor Bachrach says the chiefs "felt it is important to tell the history of there people in the town of Smithers" from that came the book.
McCreary, author of the book and Assistant Professor of Geography at Florida State University collaborated with Wet'suwet'en Elders and community members in Smithers to gather an oral history and archived information.
Kiliset Violet Gelleneeck one of the collaborators on book said that "this was a first step in the reconciliation process. What we do today we are not doing for ourselves- I myself, I am doing it for my grandchildren."
Gelleneeck said the day was about leaving a better world for future generations.