In a Press Conference Today, Minister of Citizen Services, Jinny Sims announced that Rogers would be delivering cell service to the people of Witset.
The change she said would make the community less isolated and help people connect quicker when help is needed.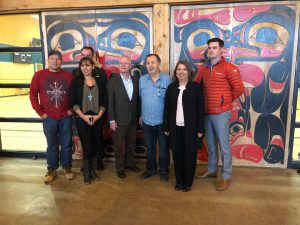 The hope both members of the community and Sims expressed is that it has an impact on the number of girls that are going missing along the highway.
"I think about how cellular service may have been a lifeline to help for many," said Sims.
Emergency Responder, Priscilla Naziel says that not having cell service has made search and rescue for missing women in the community increasingly difficult with those looking not being able to update each other.
Witset is the only first nations community along highway 16 that is without cellular service.
Also, Naziel says people who are injured could be lying on the ground for who knows how long unable to call for help.
Nazil spoke about a situation where a resident was injured, and a person had to run from house to house to try and get access to someone's landline to get ahold of first responders.
"To need help and have no immediate way to call for it is terrifying," said Sims.
The project will provide an additional 22 km of cell coverage between Smithers and New Hazelton.