The 2018 BC Child Poverty Report Card said as of 2016, 23 per cent of children living in the Regional District of Bulkley Nechako come from low-income households.
The report outlines half of the children who live in single-parent households were living in poverty.
Salvation Army, BV Ministries Director, Tim Sharp says the close to one-fifth of children living in poverty could be because of what jobs are available.
"I think part of it is the type of jobs we have here. A lot of it is retail, so a lot of parents are working a couple of different jobs," said Sharp.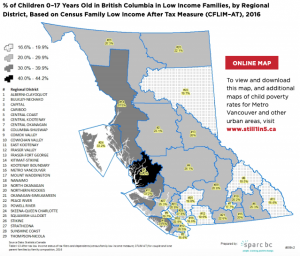 The Bulkley Valley is not alone, 24 out of the 29 regional districts in BC had at least 1,000 children living in poverty.
Sharp says the Salvation Army is working to break the cycle of poverty by getting children the resources they need.
"We are finding a unique way to address it by partnering with the school. They are working with the kids every day, and they know what kids are really in need, so we allow them to identify what families need that extra help," He said.
By making sure kids are not hungry, Sharp said they can better concentrate throughout the day, giving them more opportunities to succeed in the future.