One person has been arrested after a foot pursuit that led to the seizure of drugs, cash and guns by New Hazelton RCMP.
On November 22, police executed an arrest on an individual with four outstanding warrants.
According to RCMP, the foot pursuit lasted for five hours before the suspect was apprehended.
The Police Dog Service located a handgun after the pursuit.
RCMP added during the investigation police recovered three shotguns, a handgun, over 400 grams of suspected crystal meth, fentanyl, other drugs and a large amount of cash.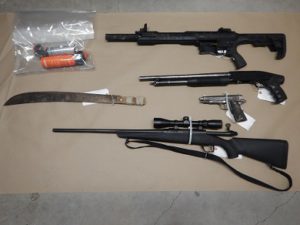 Additionally, a vehicle and trailer were also seized.
The investigation is being forwarded to the BC Prosecution Service for review of potential charges.
Anyone with information is being asked to contact New Hazelton RCMP or Crime Stoppers.