A local Burns Lake woman is in the running to be Inked magazine's next cover girl.
Brianne Willson, who also works at the Sunshine Inn in Burns Lake,  made it to the first round of voting and is currently in first place in her group according to Inked Magazine's website.
According to Willson, her friends pushed her to do the competition and she didn't think she would get to the point where the public could vote.
"Getting to this point is pretty big for me and I take it as its own because just to put myself out there was really hard and difficult and it made me progress," she said.
Willson added that she got her first tattoo at the age of 14 and one specific artist has done most of her tattoos, Sean Smoley from Broadway Tattoo in Smithers.
She also said she has always loved the idea of tattoos.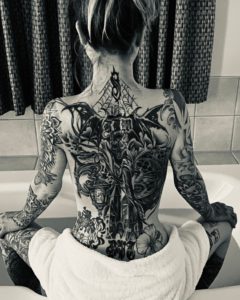 "It's a way to express myself without having to say it verbally because I'm not very good with words or speaking so it's self expression and an outlet for me," Willson said.
She added that it's hard to pick a favourite tattoo because they are all significant and reflect something that she was going through at that time.
Willson said if she had to choose a favourite it would be the portrait she has of her son when he was two years old.
If she wins the competition she will be on the cover of Inked Magazine, a two full page spread and a $25,000 cash prize.
Voting for the competition began on January 18 and will run until February 3 on Inked Magazine's website.