Laptops were donated to the Upper Skeena Counseling and Legal Assistance Society in Hazelton by the Canadian Bar Association, BC Branch.
5 of the devices were brought to the society by President of the CBABC, Clare Jennings this afternoon (Friday).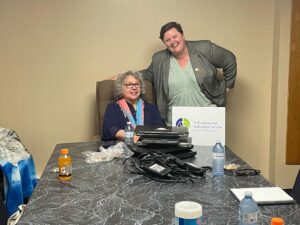 Staff were advised the laptops can be used however they see fit.
The laptops were donated through its Access to Justice Tech Drive, which received 180 electronic devices through large law firms.
Jennings said why she felt Hazelton should be among the communities to receive the devices.
"Hazelton is a community that has historically been somewhat under-represented and has had issues in terms of access to technology and access to justice quite frankly," she said.
Jennings added that where they have strong working relationships with communities in need they would like to serve those areas wherever possible.
She also said that the courts are moving to more accessibility virtually and more communities are needing access to electronics.
"The more communities that actually have access to the technology that makes that possible the more accessible the courts are to people in distant communities," Jennings said.
Managing Lawyer at the Upper Skeena Counseling and Legal Assistance Society Linda Locke said it is exciting to receive the laptops.
She added that the society can give it to people who cannot afford the technology or to some elders.
The program for the donated laptops is a way to promote access in rural communities.