After a year and a half in the making the Salvation Army new and improved soup kitchen is open.
It opened to the public today (Friday) after being closed since March.
Corps Officer Lt. Rick Apperson said that it is exciting for the space to be reopened.
"The last few months have been quite busy and hectic as we've totally gutted and redone most of the inside of the building but we're excited because seeing people come in the door and seeing people smile, so it's great to see people back in the building," Apperson said.
He added that with this new building will be some new courses and programs that they have not offered before.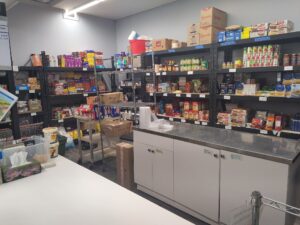 The Salvation Army will soon be offering its Pathway To Hope program, which will provide support for people to achieve short and long term goals.
Additionally, cooking classes will also be offered.
Apperson said that shutting down the thrift store that was no longer viable allowed them to create this new space.
"Being able to adapt and expand the building so we can do things like cooking classes and other programs, new programs, to expand our food bank operations, it's been a struggle to get here but it's also been very rewarding to see the finished product," he said.
According to Apperson, anyone interested in the new programs and classes should contact him at 250-842-5551.
He also said he has heard positive responses from the community about the updated space.