One person has been arrested following a robbery investigation that led to the seizure of drugs and guns in New Hazelton.
RCMP said on September 2 police were called to a home on Alderway Loop after they received a report of a robbery.
A suspect went to the home, demanded money and assaulted two people.
According to New Hazelton RCMP, the suspect threatened to shoot the two people, took a small amount of cash and left in a dark coloured suburban.
Police added that the victims knew the suspect, an adult man and police found him at his residence where he was taken into custody without incident.
A search warrant was obtained and RCMP found a significant amount of suspected illicit drugs, 14 rifles, 2 sawed off shotguns, soft and hard body armor, crossbows and ammunition.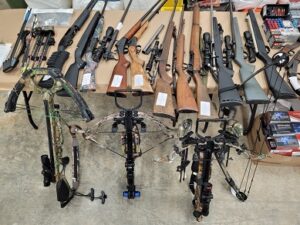 The suspect has been remanded in custody and is facing charged of robbery, use of firearm while committing indictable offense, assault with a weapon, utter threats, possess a firearm without license or registration, possessing firearms, crossbows, prohibited weapons, possess non-firearm unauthorized and two counts of willfully resisting or obstructing a peace officer.
Police said the investigation is ongoing and further charges may be laid.
Anyone with information is being asked to contact New Hazelton RCMP.