Candles lit and tears were shed in front of the Smithers RCMP detachment this evening (Wednesday) as many people gathered to honour a Witset man who died while in police custody.
Barrett Jack died on Sunday (September) after police found him in a cell at 8:55 p.m in medical distress with what RCMP are calling self-inflicted actions.
Loved ones raised their candles to the sky and shouted "We love you Barret"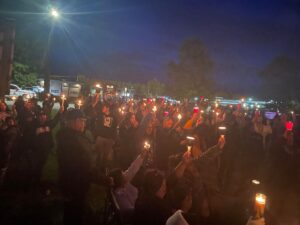 RCMP added that Emergency Health Services were called and he was transported to hospital where he was pronounced dead.
Jack was arrested on September 1 in connection with a high speed chase after a break, enter and assault.
His aunt Charmayne Nikal is remembering him as having a heart of gold and having a gentle nature about him.
"Barrett was one to live life to the fullest, teaching us how to have fun and laugh. He carried a smile for others even when he was down," she said.
Nikal added that childhood traumas led him down a dark road of addictions.
She also said for the first time in a while they thought that he was safe.
"We didn't have to worry while he was in the care of the RCMP, a place that should've kept him safe," Nikal said.
"The RCMP have failed us in not keeping Barrett alive , this is the bare minimum of what we should expect from the RCMP. We should be able to sleep at night knowing our children are in custody with the RCMP, we should not have to worry about how the RCMP will deal with our Indigenous people," she said.
Jack's uncle Barry Nikal said his family thought that he would be safe in custody.
"That's not the case now he's not coming home. I'm standing here in front of his daughter, she's got no more daddy now. Nobody should be brought into a police station and not come back out alive," he said.
Loved ones told the community that while they don't condone his actions he should still make it out of custody alive.
The Independent Investigations Office currently has conduct of the investigation into Jack's death.
According to the Witset First Nation, Jack was passionate about fastball and so there will be a moment of silence at the upcoming Field of Dreams tournament.