It seems BC residents are stressed, blessed, and coffee-obsessed.
According to a survey from Time2Play, people in our province are the biggest spenders on coffee – averaging $38.28 per month.
This was followed by Ontarians who spend $36.60 while Albertans were a close third dolling out $36.42.
On the flip side, the provinces that spend the least on a cup of joe per month are Quebec ($28.38), Manitoba ($28.02), and Saskatchewan ($22.06).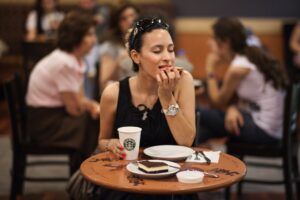 Spokesperson, Rhiannon O'Donohoe told Vista Radio while BC residents are most likely to support local coffee brands, the majority of Canadians now prefer Starbucks over Tim Hortons.
"A lot of people didn't pick Tim Hortons as much as I thought they would. A lot of people are starting to prioritize and I think being able to customize your own drinks and I think that is why Starbucks became the majority vote for favourite coffee all over Canada."
"I think BC typically has that hipster reputation so I think it's good that they are willing to support local coffee brands as well, especially post-pandemic."
As for how many cups of coffee people drink per day, BC residents also ranked first at 1.7, outpacing the Canadian average of 1.5 cups.
Furthermore, those who are retired consume the most coffee, at 2.6 cups a day.
Those who work in construction and extraction ranked consume 2.4 cups of coffee a day followed by those employed in the life, physical, and social science field at 2.2
Out of the 22 occupations polled, Starbucks is their preferred coffee brand.
In addition, remote workers drink 1.7 cups of coffee per day, while in-office workers consume 1.5.
O'Donohoe stated the findings on remote workers and retirees were not all that shocking.
"It makes the most sense because retired people and remote workers are spending a lot of time at home so they have very easy and not free but accessible access to your coffee machine right there and then as I think hybrid and in-office settings or those in the field that have other occupations have to go out of their way to buy coffee or if they are heading out in the morning have to take it with them."
Lastly, over half of Canadians who were polled said they drink coffee at home while the most popular go-to order across the country is black with or without milk.
A link to the survey can be found here.