While the holidays are often called "The Season of Giving" you won't see one local fundraising campaign in front of BC Liquor Stores this year.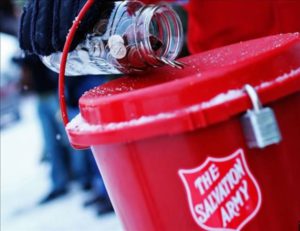 In an email sent to MyPGNow.com, the BC Liquor Distribution Branch noted that all provincially-run liquor stores will not allow the Salvation Army's Christmas Kettle Campaign to use their facilities for collection.
Instead, BC Liquor locations including the north, are running an in-store campaign in support of Food Banks BC through the holiday period, which began on November 12th and concludes New Year's Eve.
In addition, their Share-A-Bear program is also underway where they ask customers if they would like to purchase one bear to take home while the twin is donated by the store to a shelter, hospital, or other charity.
To date, the Liquor Distribution Branch has raised nearly three million dollars since its partnership began with Food Banks BC in April 2020.