A recent amendment to the federal government's Bill C-21 is being met with anger and confusion.
Earlier this week, a change by Ottawa would ban many hunting rifles along with shotguns and antique cannons. Originally, Bill C-21 was only centered around handguns.
This has drawn the ire of Skeena-Bulkley Valley NDP MP Taylor Bachrach as the recent changes were back-doored in and not previously discussed in the House of Commons.
"One of the Liberals amendments is an attempt at the description of the function of the firearms and that's what has really expanded the scope of the legislation to include a number of models of firearms that are commonly used hunting rifles and shotguns."
"We feel that is totally inappropriate. I have been hearing from people all across Northwest BC who are concerned about their ability to gauge hunting and other activities. Frankly, it's not an amendment that I support."
On Monday, Prime Minister Justin Trudeau stated the federal firearms bill not be going after hunters and people who use guns legally.
Ottawa's definition of assault-style firearms has drawn the ire of firearms groups, politicians, and celebrities. The federal government uses the phrase often to describe weapons capable of firing more than one shot in quick succession.
Trudeau mentioned the government is consulting with stakeholders but they will not be going after hunters or anyone who uses guns in a legal way. He says they are going after firearms designed to kill the largest number of people in the shortest amount of time.
However, Bachrach isn't buying Trudeau's recent explanation.
"I don't think it's accurate to say that the amendments don't affect rifles and shotguns that people use for hunting and other kinds of activities that are part of the northern lifestyle. It's been analyzed and there is plenty of evidence out there that shows how that amendment is going to affect certain models that people use."
"One area of the legislation that we heard feedback on was around airsoft firearms. These are non-lethal firearms that airsoft enthusiasts use as part of their sport. We have amendments that would be important for those enthusiasts to enjoy their sport into the future." added Bachrach.
"The reason this is such a big deal for our region and for rural Canada is that the expanded scope starts to affect a number of firearm models that are used for hunting, predator control, and farmers. They are also used by backcountry enthusiasts – that was never the discussion around this legislation."
While Bachrach admits something needs to be done to limit gun violence on our streets, it should not come at the cost of law-abiding gun owners.
"A lot of the people that I talk to support reasonable firearm regulations and they want to see the level of gun violence in Canada go down. At the same time, there is a real feeling this government doesn't understand the lifestyle in our part of the world, the lifestyle in rural Canada, and the way that people use these firearms for aspects of our lives that are really important."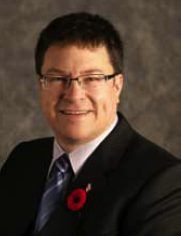 Sheldon Clare, who is the past president of the Canadian National Firearms Association stated Ottawa has taken the hot topic of firearms and made it into a political football.
"I've already been dealing with people who have watched their gun collections they have had for decades be rendered useless by this legislation and other legislations that this totalitarian government has brought in."
Clare, like Bachrach, also isn't buying Trudeau's stance that the amended legislation does not target hunter or law-abiding gun owners.
"He's a liar. That's not just my opinion that's factually observable, this Bill C-21 is very much going after ordinary firearms and it's seizing and stealing their property and the value of that property from them. We don't have a gun crime problem in this country. What we do have, however, is a problem with a corrupt government that is resplendent with scandal and is using this as a distraction ploy that we can be lead into a bait-and-switch operation to be looking here while he is causing problems elsewhere."
"This is a corrupt government that does not care about its citizens and seeks only to divide people against each other rather than to build a great country."
Right now, the bill is in the hands of the Public Safety Committee, a place where MPs who sit on the committee can make amendments to the bill and debate it before it comes back to the House of Commons.
"There is still a lot of work to be done. The initial legislation that the Liberals tabled had a lot of issues and the amendments only made it worse."
"There is still a lot of water to go under the bridge before we see what kind of final bill is going to end up in the House of Commons. But, I can tell you that I am hearing a lot of feedback on this amendment in particular because it really expands the scope of the bill into areas that were never talked about and start to really impact people in our region," added Bachrach.