The BC RCMP are continuing to investigate acts of violence and extensive damage inflicted at a Coastal GasLink Camp near Houston.
Just after midnight on February 17th, 2022, the Houston RCMP were called to the Marten Forest Service Road, after Coastal GasLink Security reported acts of violence at their worksite.
It was reported that around 20 people, some armed with axes, were attacking security guards and smashing vehicle windows at the work site.
Police attended and found various objects placed along the route on the forestry roads to impede passage.
Those included downed trees, tar covered stumps, wire, and boards with spikes with them.
Additionally, fires had been lit throughout debris at the 41 km mark, and an old school bus blocked the 43 km mark.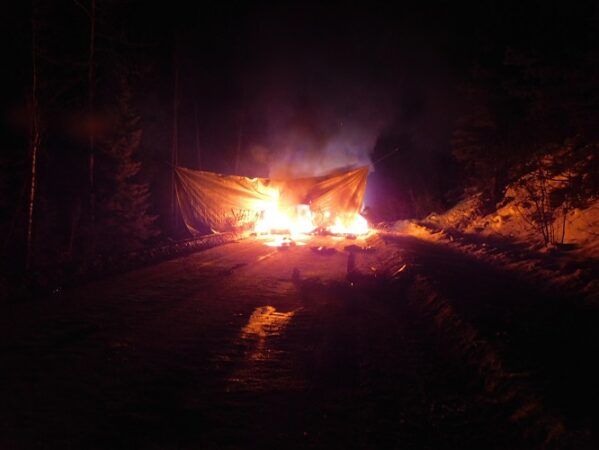 Five days after the incident, police released three surveillance videos of the incident.
"The amount of destruction and extreme violent behaviour by these criminals went far beyond the scope of protesting an issue," said Chief Superintendent John Brewer, Gold Commander of the Community-Industry Response Group.
"They have victimized innocent individuals who were simply doing their job. We know there are people out there who have information on these perpetrators, and we're urging you to do the right thing and call us. Allow the police to hold them accountable."
The Independent Contractors and Businesses Association (ICBA) and Crime Stoppers are offering a private reward of up to $100,000 for any information leading to the arrest and charge of any individual responsible for the crime.
"Crime Stoppers is pleased to support the ICBA in this endeavour, and we're here to make sure anyone who wants to pass on information anonymously can do so by contacting us. We will pass on the information to the police, and the tipster will still be eligible for the reward," said Linda Annis, Executive Director of Metro Vancouver Crime Stoppers.
"It's reasonable to assume someone with knowledge of such a crime might fear retribution if they spoke with anyone about it. But please be assured, Crime Stoppers never collects personal information. In the decades we've been in operation, we have never identified any of our tipsters."
Anyone with information on this incident, or who the individuals are, is asked to contact the Houston RCMP, or Crime Stoppers.