Yellow and Blue could be seen along Highway 16 today (Friday) as many stood to support Ukrainians, one year after the war with Russia started.
The rally was held at Goat Park as many braved the cold to remind those passing by that the war is ongoing.
According to Smithers BC Helps Ukraine, 14 Ukrainians, including adults and children, have moved to Smithers since the war started.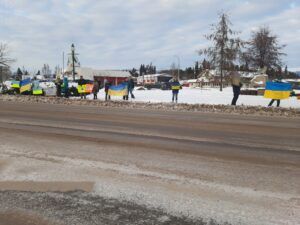 Volunteer Luba Kasum said she was happy with the turnout despite the cold.
"Some people came prepared with their own poster and such, so I'm glad that people still remember about the war in Ukraine."
Seven of the displaced Ukrainians living in the community attended the event.
Kasum said sometimes she feels people have forgotten about the war.
"It feels almost that some people forget… but it's still happening, and I'm grateful that people in Smithers show'd support and came to this rally and still remember what's going on."
Fundraising is ongoing and will continue even after the war ends, according to Kasum, to help Ukraine rebuild.