Students at Twain Sullivan Elementary and Houston Secondary got to see and interact with different industries in this year's Industry Day. 
This is the second year the event has ran, but Twain Sullivan librarian Tanya Margerm said the event has been running under different names for a few years.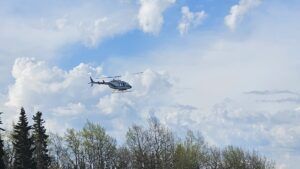 "Industry Day started as just a small thing. My kindergarten class had a Mechanics Day. I invited a mechanic to talk to the kids about what they did and what it looked like to work with engines." 
She added Industry Day was a way to expand the reach to other industries around Houston and to let everyone in Houston learn about the local industries.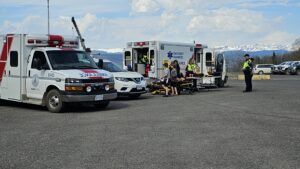 Events started today (Friday) after Westland Helicopters landed in the field outside Twain Sullivan Elementary, drawing a crowd from both schools and the district. 
At the event, students learned about blacksmithing, CPR and First Aid by paramedics, toured a Houston RCMP cruiser, and learned about agriculture. 
Other participants were: 
Peterbuilt Houston

 

Houston Volunteer Fire Department

 

District of Houston

 

SMP & SMP RV

 
Margerm said Canfor also attended the event. 
"They're here to talk about their company and what they have to offer." 
Even with the mill closure, she said the event was still positively received. 
"We seem to have a really vibrant trades community and really excited to be here."