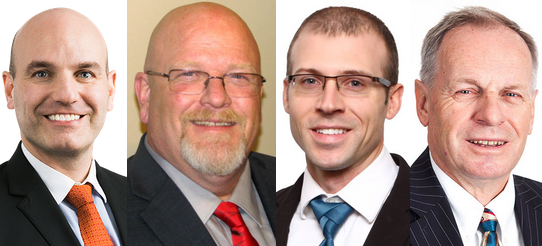 In alphabetical order, here are the four Skeena-Bulkley Valley political candidates and their bios from their respective National party's websites.
Nathan Cullen, New Democratic Party of Canada
"First elected in 2004, Nathan Cullen is a four-term Member of Parliament for Skeena–Bulkley Valley. Nathan has been a strong voice for the Northwest and British Columbia in Parliament, fighting for good jobs and a healthy environment, and against risky pipeline proposals like Enbridge's Northern Gateway. Nathan was honoured to be named "Most Knowledgeable MP" at Maclean's Magazine's Parliamentarian of the Year Awards in November 2014.
Nathan served two years (2012-2014) as the NDP House Leader in the House of Commons. In 2014, he was appointed NDP Finance Critic, where he has fought to reduce taxes for small businesses and championed a fairer, more value-added economy.
In September 2014, Nathan introduced Bill C-628, An Act to Defend the Pacific Northwest, to protect BC's North Coast against the threat of oil supertanker spills, promote value-added jobs, and improve community consultation on energy projects.
In Parliament, Nathan has been a vocal advocate on a wide range of issues, including:
transparency and ethics in government;
investment in the growing clean energy sector;
increased trade through Northwest ports;
First Nations rights;
environmental protection;
tougher rules and accountability for CN on railways passing through Northwest communities;
better ferry service for Northwest communities.
He lives with his wife, Diana, his sons Isaac and Elliot in Smithers, where in his spare time he is a sport and outdoor enthusiast."
– http://nathancullen.ndp.ca/about
Brad Layton, Liberal Party of Canada 
"A long-time northwest resident, Brad Layton is the Vice-President of Operations for Pro-Tech Forest Resources Ltd and has just started his second term as a Telkwa Village Councillor. Brad has played a vital role in the development of the current forest health management strategies for the region. His first-hand experience as a forest technician for over 28 years has shown Brad that Canada's natural resource sectors can be world leaders in innovation and sustainability.
First elected to Telkwa Village Council in 2011, Brad understands the unique and diverse needs of the vast regions that make up the riding of Skeena—Bulkley Valley. He serves on the Northwest Regional Hospital District Board and Omineca Beetle Action Coalition Board and has been a strong local representative for his community. Brad is ready to build on these experiences and be an effective voice for local residents as their Member of Parliament in Ottawa.
Brad has lived in the Bulkley Valley since 1987 and enjoys fishing and traveling in his spare time. He is the proud father and grandfather of one daughter and two granddaughters."
– http://www.liberal.ca/candidates/
Tyler Nesbitt, Conservative Party of Canada
"Tyler, 32, was born and raised in Prince Rupert. He now lives in Terrace where he works as a construction manager for the Nechako Group of Companies. After receiving his Bachelor of Arts in anthropology from the University of British Columbia he moved back to the Northwest to work and raise a family. He is a French immersion graduate and actively practices his French language skills.
Tyler is married with three young children. Family is everything to him. He wants to work hard for the people of the Northwest to ensure that his children and other parents' children will have the opportunity to find high-paying, long-term careers right here in the beautiful Northwest. He believes that families are stronger when they are together.
Tyler has always been enthralled with the outdoors and his favourite pastimes: Fishing, hunting and kayaking. He has a strong connection the natural splendour of this incredible region. To Tyler, Northwest B.C. is the most beautiful place on earth.
Tyler believes in responsible resource development in the Northwest. He is a strong supporter of making a Northwest LNG industry a reality."
– http://www.conservative.ca/team/member/?fname=Tyler&lname=Nesbitt&type=candidates
Donald Spratt, Christian Heritage Party 
"Don was born at Davidson, Saskatchewan, and raised on his parents' grain farm. He graduated from Full Gospel Bible College in 1973 where he met Gloria in 1969. They were married at Penticton in 1971. Since graduation, he has served as a pastor, gospel singer, recording artist, Bible teacher, evangelist, missionary and international humanitarian aid and development. He was ordained in 1981.
Don has also been a Christian human and civil rights activist working for the release of persecuted pastors and dissidents in the former Soviet Union and other communist nations since the late 1970s.
Don became increasingly active in the mid-1980s defending the pre-born and the traditional family, helping found and publish Life Gazette Newspaper. He was nominated and ran for Surrey council in 1985 and 1986 with the Surrey Non-Partisan Association.
Don organized and led Rescue Canada in BC (also known as Operation Rescue) in the late 1980s and early 1990s, for which he was repeatedly jailed.
Eventually, this led in the mid-1990s to defending our Section 2 Charter rights, such as freedom of speech and religion in the mid-nineties. He fought two battles in the courts over 15 years to see the Access to Abortion Services Act of BC (the 'bubble zone' law) struck down as unconstitutional. His application for leave to appeal to the Supreme Court of Canada rejected June 18, 2009. Then he was arrested and convicted again for simply passing out copies of the Act in a 'bubble zone' to warn people that they could be jailed for being there.
Don and Gloria have also sheltered unwed mothers in crisis at their home. He also organized lobby efforts to Ottawa on behalf of preborn children and has participated in many campaigns in support of moral and socially conservative issues.
Don has appeared on many local and national radio and television broadcasts. He has co-hosted and guest-hosted a number of talk radio broadcasts, and has been published in various periodicals.
Don has also owned and operated various construction, sales and installation businesses, and has worked as a paramedic, business development manager, salesman and machinery operator at various times throughout the last 45 years.
Don worked closely with his friend and fellow minister, the Rev. Kenneth Campbell for the last six years of his life conducting conferences and producing radio broadcasts, based out of Tumbler Ridge, BC. After Rev. Campbell passed away, Don took over as president of Renaissance Canada (in education) Canada, which was later closed.
Don is currently in the process of founding a new organization called Life & Liberty Network (web pages under re-construction) with a vision to provide Dominion of Canada biblical world view seminars and teaching about Counter Cultural Christian Discipleship, while raising awareness about Canada's foremost political prisoners of conscience, Linda Gibbons and Mary Wagner.
Don has been married to Gloria for 44 years. They have three adult children and three adorable grandchildren."
– https://www.chp.ca/candidates/skeena-bulkley-valley