A Prince George dancer will be performing on the world stage in the Czech Republic next summer.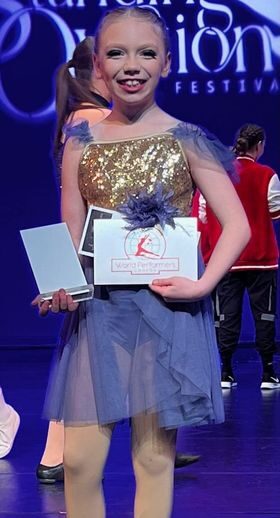 10-year-old Faiyth Boldt was selected to Team Canada's Junior Division, and will be competing at the Dance World Cup in Prague in 2024.
In an interview with Vista Radio, Boldt said when she found out she had been picked for Team Canada, she was "falling on her face, I was so excited."
She said it was "a LOT of work," and that on any given week she is dancing between five to seven days with Prince George's Excalibur Theatre Arts.
Boldt has been dancing for most of her life since she was three years old, she said this will be her first time competing internationally and is a dream come true.
She was selected thanks to a strong showing at a festival in Saint Albert back in May, Trish Longhurst, Faiyth's mother, said it was her contemporary solo that won judges over.
"I had to try out to make it on the team for group dances, what they did is they brought us in, did some choreography with us and watched us, then they sent out some emails and chose the people on the team. I got put on for lyrical," Faiyth explained.
Being on Canada's national team does not just mean a trip to Europe next year, it also comes hand-in-hand with a ton of work and a ton of travel.
"She is going to have to travel to Edmonton once or twice a month for two or three, possibly four days at a time to do rehearsals with her team," Longhurst explained. "It is going to be a lot, but she is super excited about it. It is going to be crazy, but it is going to be fun."
"She is very excited for the whole experience, she is ready to meet new friends and is excited for all the old buildings she is going to see in Prague," Longhurst said. "She is excited for the opportunity to represent Prince George and Canada, it is a big deal for her… she wants to make everybody proud."
Boldt said she is most excited to "dance on the big stage with a whole bunch of new people, and have a lot of fun."
With a busy and travel-filled year looming, Longhurst said they are in the early process of looking for sponsors for Faiyth, saying "There is a substantial cost that is involved and we are going to do everything we can to make this dream a reality!"
She has set up a monitored email account for Faiyth that friends, family and supporters have been sending words of encouragement to, as well as small donations to help with expenses, at [email protected].
"She has worked so hard and put so many hours into her love for dance," Longhurst said. "Her dedication to her team and her studio means more to her than anything."
120,000 competitors from 62 countries participate in the World Cup every year.
For more information on the Dance World Cup, click here.