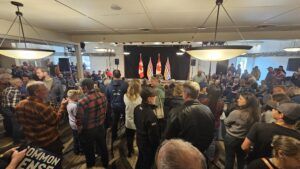 Many gathered at the Hudson Bay Lodge today (Thursday) as federal Conservative Party Leader Pierre Poilievre came to Smithers. 
"It's great to be here in BC, meeting with so many patriotic Canadians who unfortunately have been betrayed by the NDP." said Poilievre. 
Bringing "common sense" back to the parliament was the main message he shared, and included how he would like things to change. 
The Carbon Tax and cost of living were the first things he spoke about as well as how he would end the tax to reduce cost of living for Canadians. 
"In my riding, we have a Suntec tomato farm, but Trudeau is charging a carbon tax on the CO2 they release into the greenhouse that is absorbed by the plant life even though it doesn't go into the atmosphere," Poilievre said as an example.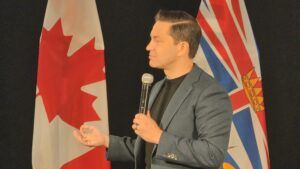 He added this encourages buyers to purchase imported over locally produced, sending money out of the economy. 
In addition, Poilievre also proposed a dollar-for-dollar law to cap government spending and to further decrease inflation. 
"You've been pinching your pennies for long enough, it's time for politicians to start pinching pennies too." 
Poilievre then on getting rid of the ArriveCan app and banning the Bank of Canada from creating a digital currency.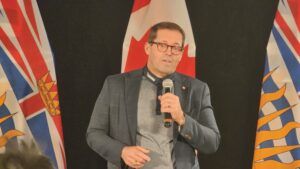 Prince George-Peace River-Northern Rockies MP Bob Zimmer also spoke at the event about fishing and hunting prior to introducing Poilievre. 
"We want to make sure you are able to fish and hunt with your family, keep your hunting rifles, and participate in what we all know as Canadian tradition," he said. 
This is the first stop on his two-day tour in Northern BC, visiting Terrace and Kitimat tomorrow.