A long summer of battling wildfires across Western Canada came to an end over the weekend for a group of 215 South African firefighters, following a two-week deployment in the Vanderhoof/Fort St. James area of the Prince George Fire Centre.
The contingent consisting of 155 men and 60 women gave a small crowd along the Old Cariboo Highway a cultural celebration on Thursday filled with chanting, singing, and dancing.
The South African contingent, which equated to about a dozen, 20-person unit crews, were on the front lines from 7 a.m. to 7 p.m. daily, getting bused two and from their destination.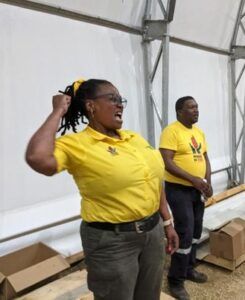 Antoinette Jini, senior representative of the South African force told MyPGNow.com the opportunity to come to Canada is an opportunity they won't soon forget.
"It's been so very good for the experience of these young men and women, and we met with the incident management team the transition was smooth and that is something we will take home."
#Mzanzi4Hotshots consisting of 215 South African firefighters and management from @environmentza Working on Fire Programme are back in South Africa from the Province of British Columbia, where they were helping with firefighting efforts. @BCGovFireInfo @GovernmentZA @CBCNews https://t.co/ESer4NUJL7 pic.twitter.com/JuBVmQDpIU

— Working on Fire (@wo_fire) September 25, 2023
In two short decades, South Africa has developed a good reputation for its management and response to wildfires not only in their home country but across the globe.
Working on Fire is an expanded Public Works Programme that was launched in 2004, aimed at providing work opportunities to young men and women.
It is funded by the Department of Environmental Affairs.
Participants are recruited from marginalized communities and trained in fire awareness and education, fire prevention and fire suppression skills.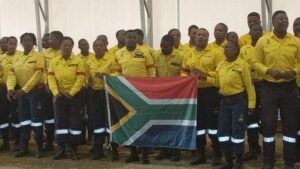 In addition, they are also trained in skills such as first aid, carpentry, cooking, health and safety and communications.
"We employ them out of nothing as firefighters," said Jini.
"And then after that, we give them accredited training for advanced firefighting, first-aid and sheriffs in terms of safety. We also adopt the Canadian standards for our fitness. We have hot shots and we prepare them with boot camps right through the year and they run 2.4 kilometres in about 10 minutes."
"We will be celebrating 20 years as a program in October and while we have been here, we have been preparing for that celebration. The people who go out for the police force are the people we've trained and when they go for recruitment, the police force knows for sure where to go. They have the fit people they want and they go out and excel," said Jini.
Jini helped lead some of the chants during the sendoff but also took a moment to honour the four wildland firefighters who lost their lives in a motor vehicle incident after working in the VanJam Fire Zone.
"Let's honour them for the impact they made. We are grateful we are safe – when you can see during the moment of silence, it touches them. It might be me; it might be me."
Prior to being deployed to the Prince George Fire Centre, the South Africans had their hands full with the Bear Creek wildfire in the Okanagan, a fire that ravaged the Greater Kelowna area along with an earlier stint in Canmore, Alberta.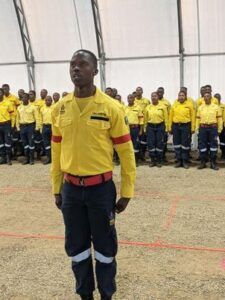 The 2023 season, which began in May, has burned 2.5 million hectares of BC forests and the province has leaned on the support of 1,000 out-of-province and international firefighters from South Africa, the United States., Mexico, Brazil, Colombia and France.
To put it into further perspective, 1.92 million hectares burned have been concentrated in the Prince George Fire Centre.
Fire Information Officer Sharon Nickel with the PG Fire Centre noted getting an extended period of rain before the temperatures reach below freezing.
"We do need some rain before the ground freezes so that we don't have dry ground before the freeze. Because, once everything starts to melt, we will run into a horrible flood season."
"A lot of the larger fires that we do have, we will have active into the winter and will still be on the map next spring."
Nickel noted the last two years have seen two completely different responses, in 2022 – fire crews in our region didn't see a decent workload until the second half of the summer.
"Last year, we did have a bit of an abnormal fire season just with the late start. Our season up in Prince George didn't really begin until August and that was primarily our Battleship Mountain wildfire and we saw that one go into mid-October based on the drought conditions we experienced in the northeastern part of the province," added Nickel.
She added the Prince George Fire Centre has seen a large fleet of aircraft assisting with wildfires, including 30 helicopters responding to the Donnie Creek complex.
Since April 1st, 664 wildfires have ignited in the Prince George Fire Centre, well ahead of the Kamloops Fire Centre, which has only seen 389 up to this point.
The Spirit of #HeritageMonth is spread across the #Mzanzi4Hotshots @KMI_Airport@environmentza @GovernmentZA @BCGovFireInfo @dailymaverick @BBCAfrica @eNCA @SABCNews @Newzroom405 @News24 @TheCitizen_News @TheStar_news @IOL @SABreakingNews @CBCNews https://t.co/MivH9ycdn6 pic.twitter.com/l8LPn8l3ju

— Working on Fire (@wo_fire) September 25, 2023