About 1000 people gathered at Walnut Park Elementary in Smithers as a new totem pole was erected. 
The ceremony started at Central Park where hereditary chiefs led a walk to the school.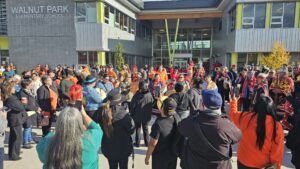 Along the route, the chiefs made stops so drummers and singers perform and the participants to dance. 
The totem pole project has been in the works since the new school building was opened 2 years ago. 
Funding was provided by School District No. 54, Town of Smithers, Regional District of Bulkley-Nechako, Wetzinkwa Forest Corporation, and the First Peoples Art Council. 
Each of the clan members were invited to perform around the pole, followed by the other First Nations who reside in Smithers, and the "settlers". 
After the ceremony, everyone was invited into the school to participate in a feast. 
The pole was constructed to tell the story of the people who lived on the Gitdumden land.