The Smithers Steelheads are the 2015-2016 CIHL Champions!
The team won on home ice Saturday, taking down the Williams Lake Stampeders 5-3. Smither swept the championship series 2-0.
Even though Brendan DeVries was named playoff MVP, Coach Tom DeVries says he's proud of everyone.
"The whole team played really well. We got some great goaltending and some great defensive play and some clutch goals from pretty much everybody so (it was a) real team effort," he says, "Brendan (DeVries) seems to turn it up when it comes to wanting to win so good for him to win that."
This is Smithers' fourth championship in five years. The team finished the season 13-3 and was 6-0-1 in the playoffs.
The team will now prep for the Coy Cup Provincial tournament in Terrace at the end of March.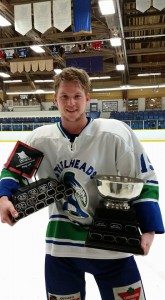 Photo of Brendan DeVries. Both photos were taken from the Smithers Steelheads facebook page.