Nathan Cullen has sounded off on Greyhound's approval to pull bus routes out of Northern BC.
The Skeena-Bulkley Valley MP calls the decision disappointing, but somehow and someway, he saw this coming.
He believes it's now up to local mayors, leaders, First Nation bands, and other community members to find safer transportation.
"We know that if people don't have options, they'll choose worse routes and dangerous routes like hitchhiking and what not. I think it's on us as local leaders to step into this void and make sure that we give people some solution out and I think we can really do it."
On June 1st, one of the cancelled routes will be along Highway 16 from Prince Rupert to Prince George with no other way 'one way ticket' to get from the coast to the Northern capital.
Greyhound has claimed it's dropped ridership by 46% and have lost more than $70 million as a result.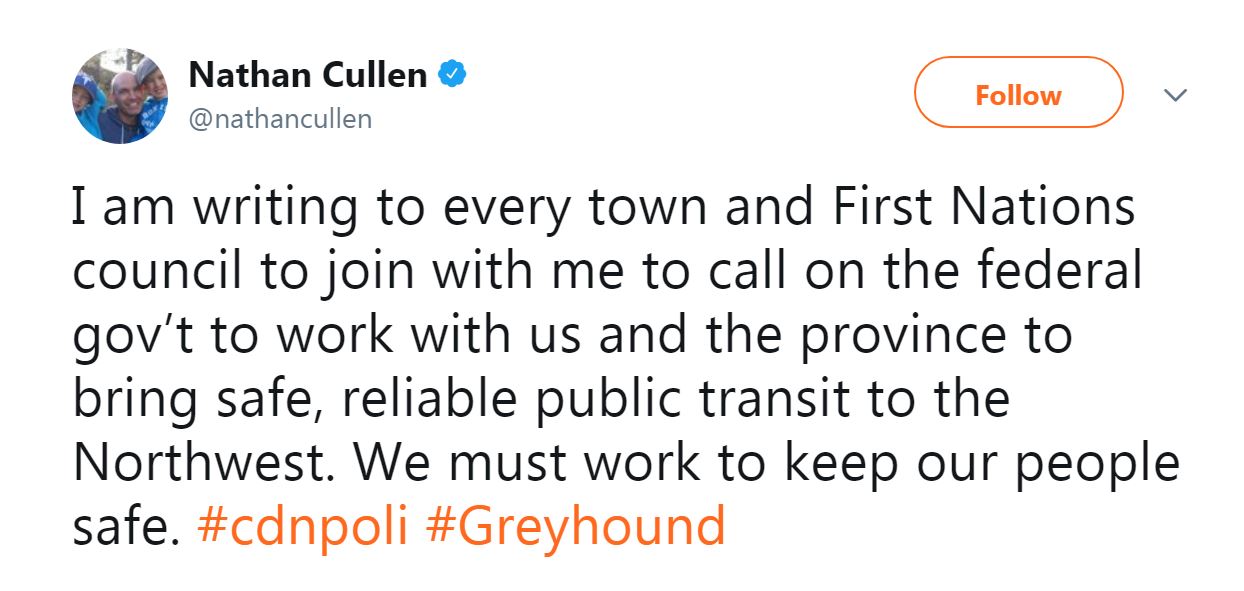 Cullen says it's ironic the company and BC's Passenger Transportation Board (PTB) would shut down this route given a current on-going issue.
"When the Inquiry for Missing and Murdered Indigenous Women and Girls was here in Smithers, I think it was that same week that Greyhound indicated it wanted to pull out of Northern BC, and knowing all those horror story of families losing daughters, mothers, and sisters along this highway, things could get worse."
He believes there are public options out there for both federal and provincial governments to replace the buses.
"The BC public transit system was introduced last year to address affordability among smaller communities in the Northwest, but was not meant to replace the important service Greyhound provided to people. It's meant for smaller segments, but not for the intercity travel and we will continue to fight for those services."
He says this is first and foremost a safety issue, and convenience shouldn't ever be a deciding factor.
Productive meeting today with MP @nathancullen regarding risks of rail transport through our communities. pic.twitter.com/LJqWfiABo1

— Taylor Bachrach (@taylorbachrach) February 22, 2018