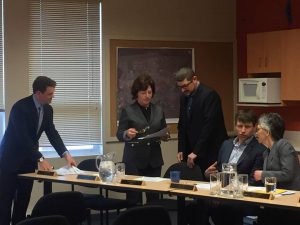 What may you ask is in 79 days from today?
July 1st, 2018 is not only Canada's birthday, but also the legalization date for nationwide cannabis use.
This conversation will continue to be a hot topic of interest but what does the local government have to say about it? Well, not much really, actually there seem to be more questions than answers at this point.
Smithers Mayor Taylor Bachrach says it's something his council has on the radar.
"We've started having conversations about what the regulatory environment could look like and what our response will be towards the new legislation coming forward. There's a lot that still needs to be decided and we feel there needs to be more clarity."
Some are in favor, but others are still apprehensive.
Bachrach says at this point, the Town of Smithers will put the issue on hold.
"We're not accepting any business license applications for cannabis-related items until we have a really strong sense of what the federal and provincial framework is going to look like. As for the use of it publically, that will also be something we will discuss. There are many things council will have to consider when looking at how cannabis will affect our community."
For the time being, we here in the area will have to bide our time while decisions are made.
My Bulkley Lakes Now has reached out to Smithers RCMP for comment about the upcoming cannabis legalization and will update the story with any additional information.