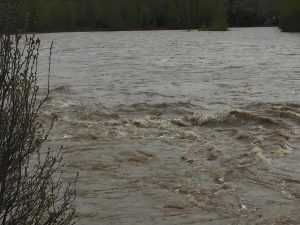 The Bulkley River and Tributaries around Burns Lake, Houston, and Smithers are currently under a flood warning.
Head of the BC River Forecast Centre Dave Campbell tells us what he knows to this point.
"We're in a bit of a holding pattern right now throughout the province as precipitation has ended and things are beginning to heat up. There's a ridge of high-pressure across BC which will lead to warmer temperatures causing the existing snowpack to melt. "
So is there enough snow left in the region to play a big impact in the coming days? Campbell believes so.
"When you're in the upper elevations, there is certainly enough snow left. If you look just east of Smithers, the snowpack is still quite high there. Although levels did subside slightly overnight, the coming days will be crucial for Smithers and the Bulkley River. As things begin to heat up, water levels will gradually increase heading into early next week. Expect things to get worse before they get better."
Campbell says worst case scenario at this time would be prolonged heat followed by precipitation.
A summary of key rivers includes:
Bulkley River near Houston (08EE003) is flowing at 270 m3/s (20-year flow) and rising. Continued rises are expected up to 300-350 m3/s
Bulkley River near Smithers (08EE005) is flowing at 1250 m3/s (20-year flow) and a gauge height of approximately 5.5m.
Due to the Bulkley River water levels increasing, an evacuation alert has been issued by the District of Bulkley Nechako for a specific region of Smithers. That story can be found here.