Houston RCMP are searching for a Prince George man after an alleged incident Thursday (Dec 2).
According to police, just before 2 p.m. police received a call that a man allegedly discharged a firearm in a residence in the 3200 block of Park Lane.
RCMP also added frontline members were in the area on an unrelated matter and arrived at the residence shortly after the complaint was made.
Police say all occupants in the house immediately exited and it was then determined the suspect who fired the weapon fled on foot prior to RCMP arrival.
After police searched the residence it was determined that a firearm had been recently discharged inside.
No one was injured during the incident.
The suspect has been identified as Sakanisin "Scotty" Charlie- Tom.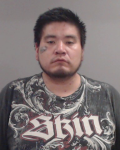 A warrant for his arrest has been approved through the BC Justice Centre.
He is described as:
30 years old
5'9
209 pounds
brown hair
brown eyes
facial tattoo
Police believe there is no threat to the public's safety because it is believed to be a targeted offence.
He is considered to be armed and dangerous and if he is seen to call 911 immediately.