A Telkwa teen is bringing home a medal and experience from the WKU World Karate and Kickboxing Championship in Wales.
Lando Ball, 16, competed in Team Point Fighting for Canada.
"Point Fighting is, in a way, glorified tag, it's more of a traditional fighting style than kickboxing, more kicks," he explained.
"It's based on whoever gets the first point, so whoever successfully strikes their opponent first. The amount of points is based on where you hit."
Ball, who has been training in karate and kickboxing for six years, won bronze in Point Fighting, and competed in Team Point Fighting as well.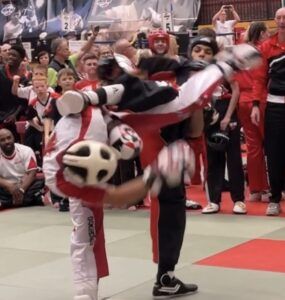 "They put three of us together, we were in the same age division, and we were put up against three of England's team, I believe it was," Ball explained.
"We, unfortunately, did not win that fight, but it was good experience anyway. There was continuous as well, I lost that fight as well, but again, I was more having fun with the continuous experience."
Ball said he didn't feel he was outskilled, but he could tell his competitors had a few more years on him.
"It does mean a lot to me to be at that level and successfully come out with an achievement," Ball said.
Ball said to he had to win provincials and then nationals in Calgary to get to worlds in Wales.
"It was a pretty great experience getting to go overseas, and sparring with other countries," he said.
"I definitely learned something new over there, I got a few lessons from so real pros."