Five Prince George RCMP officers facing criminal charges in relation to the death of Dale Culver will finally appear in court.
In July of 2017, Culver, an Indigenous man died during a struggle with police.
Cst. Paul Ste-Marie and Cst. Jean Francois Monette each faces a count of manslaughter while Cst. Arthur Dalman, Cst. Clarence (Alex) Alexander MacDonald, and Sgt. Bayani (Jon) Eusebio Cruz was charged with attempting to obstruct justice.
On the evening of July 18th, 2017, police responded to a report of a man "casing vehicles" on the 1000 block of Central Street West – a struggle ensued and pepper spray was deployed.
Once apprehended, the suspect had trouble breathing and requested medical assistance.
When the ambulance arrived he collapsed and was pronounced dead shortly after.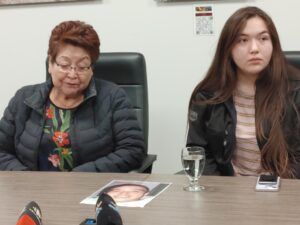 Family members of Culver held a media event at the House of Ancestors earlier this year in Prince George demanding answers for the now six-year-long ordeal.
Virginia Pierre, who was Culver's aunt said what was more troubling was finding out Dale had died – three days after the incident occurred.
"It's just like a nightmare. We still couldn't believe it the next day – 72 hours before we found that he is gone and now we are waiting over six years and then all of a sudden, nothing is happening. There is something wrong here."
"Dale was a nice, young, healthy guy. They (he and his family) were going to go back to Vancouver and get a condo where he wanted me to stay with him. This was before the baby arrived. Now, he is gone, we have court happening and he can't be here to defend himself."
"We really need justice for Dale."
In March 2020, the Independent Investigations Office of BC sent a report to the BC Prosecution Service for consideration of charges.
Court proceedings begin tomorrow (Tuesday) at 9 am in PG.