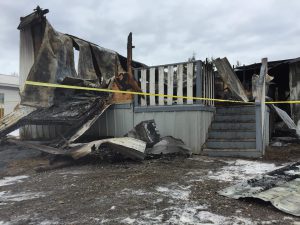 Smithers RCMP have confirmed there are no injuries following the fire in the Mountainview Mobile Home Park yesterday afternoon.
RCMP were on scene handling crowd control while fire officials battled the blaze and say all occupants and pets of the home were able to escape safely.
The original home that was set on fire was completely destroyed while the two neighboring trailers had some damage due to heat and smoke.
RCMP have applauded the quick efforts of Smithers Fire Rescue saying that more damage could've been done if it wasn't for the timely response.
The cause of the blaze has yet to be determined as crews continue to investigate the quarantined area.