It's that time of year when people can expect to see more moose in and around the town of Smithers.
A number of sightings have already been reported and anyone who sees the animal is being asked to be cautious around them.
"Moose can be aggressive towards people, even when unprovoked. A lot of this behaviour can be due to the fact of lack of food, severe tick infestation or just bad experience with people," says Conservation Officer Mike Bartos.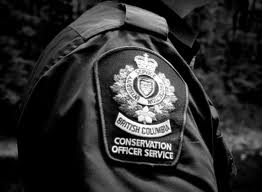 "If there is any encounters give lots of space and time. Usually the moose will leave on their own. Actions like yelling at them, throwing items or yelling at them or letting dogs chase them can lead moose to become aggressive, so, the best course of action is to give them lots of space," adds Bartos.
Because of the amount of snow we've received this year, moose are more likely to travel to lower lands in search of food and because travelling through the snow has made them exhausted.
For parents with children walking to and from school or the bus stop, it is important to discuss the actions that should be taken if a moose is encountered.
You can report any aggressive problem with wildlife to the Conservation Officer Service at 1-877-952-7277.